Bread Pudding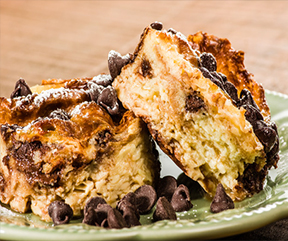 Ingredients
¾ cup of Kahlua
¼ cup of vodka
½ bag (5½ ounces) of Ghiradelli White Chocolate Chips
1 cup of finely diced walnuts
3 cups of finely crushed Pepperidge Farms Milano Cookies
Directions
1. Chop walnuts in a food processor or by hand. Crush cookies in a food processor. Combine the walnuts and cookies in a large mixing bowl and set aside. 2. Set up a double boiler (I use a soup pot and a mixing bowl) on your stove. Once the water is boiling rapidly, put the white and milk chocolate chips into double boiler. As the chips begin to melt, stir them together with a whisk. Once the chips are fully melted add the Kahlua and vodka to the double boiler. Whisk until smooth and the edges begin to bubble a bit-about five minutes. 3. Pour the hot Kahlua-chocolate mixture into the bowl of cookies and nuts. Whisk or stir together until completely blended. 4. Drop heaping tablespoons of this mixture onto your work surface or wax paper. With your hands, roll truffle dough into small balls. Place onto cookie sheets and press down slightly to give a flat surface. Refrigerate over night.
The Glazing Process: Remaining ½ bag of Ghiradelli White Chocolate Chips 2 tablespoons of Crisco 1. Set up a double boiler. Once the water boils, add the white chocolate chips and the Crisco to the double boiler. Stir together until very smooth using a spoon or whisk. Remove from heat to work surface. Dunk each truffle into the white chocolate and return to cookie sheet. Once finished, return to refrigerator and allow white chocolate to harden approx. 10 to 15 minutes. 2. While white chocolate is hardening clean double boiler and set it up to melt the milk chocolate. Repeat the previous double boiler process using the milk chocolate chips and Crisco. Once the chocolate is very smooth, dip a fork into the hot mixture and drizzle over the truffles to finish the glazing process.
Yield 4 dozen Preparation: First Step: One Hour. Second Step: One Hour Comments: Allow to sit at room temperature for at least one hour before serving.
Serves 12