Pumpkin Cheese Tart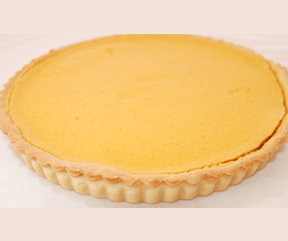 Ingredients
1 pound 8 ounces cream cheese
1 ½ cups granulated sugar
2 cups pumpkin puree
¼ cup sour cream
5 whole eggs
2 cups heavy cream
¾ tablespoon pumpkin spice
Directions
— Mix the cream cheese and sugar together on low speed of a stand-up mixer and blend until smooth. Scrape the bowl often.
— Add the pumpkin puree and the sour cream and eggs, mix on slow speed.
— Finish with heavy cream and blend.
— Bake in a pre-baked 10-inch tart shell until set, approximately 35-40 minutes.
This is a beautiful fall dessert and great tasting. Serve with lightly whipped cream and candied pumpkin seeds.
Serves 5