Honeydrew Champagne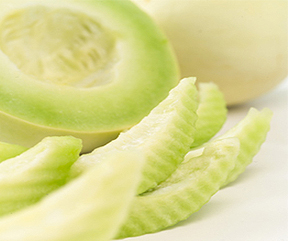 Ingredients
3 cups water
1 cup sugar
3 sprigs mint (chopped)
2 ripe honeydew melons (peeled and seeded)
2 teaspoons lemon juice
3 tablespoons honey
¼ cup champagne
Directions
Place the water and the sugar in a clean pot and bring to a boil. Infuse with mint. When the mixture boils, remove from the heat and strain. Let cool.
Puree the melons with the lemon juice and honey. Combine with the champagne and 3/4 cup of the sugar syrup (refrigerate the remaining syrup in an airtight container for future use).
Freeze the mixture in a shallow, rectangular pan for 24 hours, stirring during freezing if needed.
Serves 3