Guacamole Recipe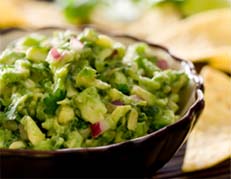 Ingredients
3 California (only) Avocados
1 chopped Tomato (medium)
½ chopped Red Onion (medium)
2-oz. Sour Cream
1 clove Garlic (chopped fine)
salt and black pepper to taste
2-3 wedges of lemon
Directions
Important: Picking the right Avocado. California Avocados are the ones that are rough skinned and dimpled (not smooth skinned). They should be ripe and soft like a yellow banana. Take out the small stem.
Cut the Avocado in half the long way. Separate into two. Remove the pit.
Take a tablespoon and put in between the skin and the pulp of the Avocado and remove the pulp. In a good size bowl, dice up the pulp of two Avocados into ¼ inch pieces. Mash the third Avocado like a potato. Combine all the ingredients and mix well with a spatula. Store in refrigerator.
If possible, get unsalted corn chips and dip away!