Eggnog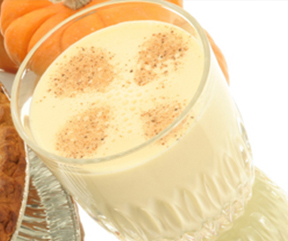 Ingredients
1-cup Breakfast Blend Ground Coffee
2/3-cup Brown Sugar (you can use white sugar)
4 to 8 eggs, Separated
3-cups Whole Milk
2/3-cup Heavy Cream
Optional:
2/3- cup Spiced Dark Rum
1 2/3-tsp vanilla extract
Ground nutmeg
Directions
A little perk for every palate. This recipe is from a region rich in tradition and good taste, by the coffee with the same name… New England Coffee.
Brew some extra strength coffee by placing 1-cup of ground coffee to the brewer basket. We recommend New England Coffee's Breakfast Blend ™ Or try your favorite New England Coffee Blend that suits your Java taste. Dissolve 2/3 -cup of Brown Sugar in 1 -cup of the brewed extra strong coffee; mix with the 2/3 -cup heavy cream and 3 cups of milk. Chill.
Beat egg yokes rapidly with a whip for about a minute. Then slowly mix into the Chilled 1-cup of coffee of heavy cream and milk mixture. Beat egg whites until nice and firm. Fold into the chilled egg-yolk mixture. Pour into punch bowl.
Optional:
Sprinkle with nutmeg. Add the 2/3-cup Spiced Dark Rum or 1 2/3-tsp vanilla extract for flavor. Mix before serving.
Serves 4