Divan Scallops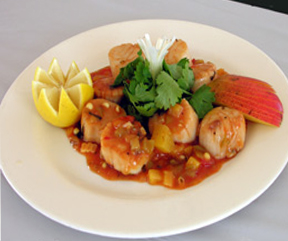 Ingredients
16 2-oz Sea Scallops
1 Tbsp Pure Virgin Olive Oil
1/4 Pineapple (fresh, peeled)
1 Mango (diced)
1 lg Beefsteak Tomato (diced, remove seeds)
1 Jalapeno (fresh)
1/4 Bermuda Onion (diced)
1 tsp Cilantro (chopped)

2 Scallion (finely chopped)
2 Tbsp Brown Sugar
2 Tbsp Maple Syrup
1/2 juice from fresh Lemon
1/2 juice from fresh Orange Juice
1 Tbsp Honey
Salt and Pepper to taste
1 Tbsp Tequila
1 Tbsp Corn Starch
Directions
Place olive oil in large sauté pan until oil starts to smoke. Place scallops in pan for 1 ½ minutes per side or until golden brown. Remove and put aside.
Mango Pineapple Salsa – Sauté onions, Jalapeno, tomatoes, pineapple and mango together. Add honey, maple syrup, brown sugar, lemon, orange juice and cilantro. Add tequila, mix together. Mix equal parts corn starch and water until cornstarch dissolves and add to mixture. Remove from heat and serve warm or cold.
Place scallops on plate and spoon salsa mixture over scallops. Garnish with sprig of fresh Cilantro.
Serves 6