Blue Mountain Coffee Brulee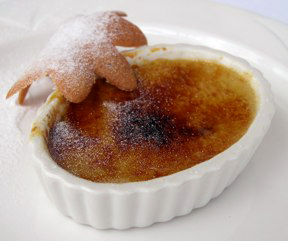 Ingredients
24 oz Heavy Cream
8 oz Milk
5 oz. Granulated Sugar
12 Egg Yolk
1 Vanilla Bean
2 tsp Blue Mountain Instant Coffee
Directions
1. Boil heavy cream, milk, vanilla bean and half of sugar.
2. Mix the rest of the sugar with egg yolk, add a little of the boiling milk to it. Whisk.
3. Pour in the rest of the boiling mil and reduce heat.
4. Mix well until thicken and smooth.
5. Finally add coffee to the mixture, mix well then strain.
6. Bake at 250 degree for 1/2 hours.
Serves 5