---
Wicked Bites TV Highlights
Error type: "Forbidden". Error message: "Access Not Configured. YouTube Data API has not been used in project 722129081357 before or it is disabled. Enable it by visiting https://console.developers.google.com/apis/api/youtube.googleapis.com/overview?project=722129081357 then retry. If you enabled this API recently, wait a few minutes for the action to propagate to our systems and retry." Domain: "usageLimits". Reason: "accessNotConfigured".
Did you added your own Google API key? Look at the
help
.
Check in YouTube if the id
WickedBitesTV
belongs to a username. Check the
FAQ
of the plugin or send error messages to
support
.
Wicked Bites Radio Archives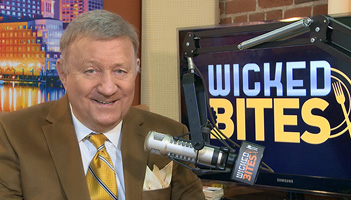 Sundays 9-12pm on WRKO-AM-680 Boston and North Shore 104.9FM
---
March 8
Famous Roast Beef Sandwich
---
March 1
KFC Donut Chicken Sandwich Testing | Community Oven
---
February 16
Bobby & Jack's BBQ | Burgers
---
February 9
Famous Roast Beef Sandwich
---
Restaurant Secret Recipes
You be the producer - who should we feature on the show and why?